Hybrid turf gets underway at stadium
Tuesday, Jan 18 2022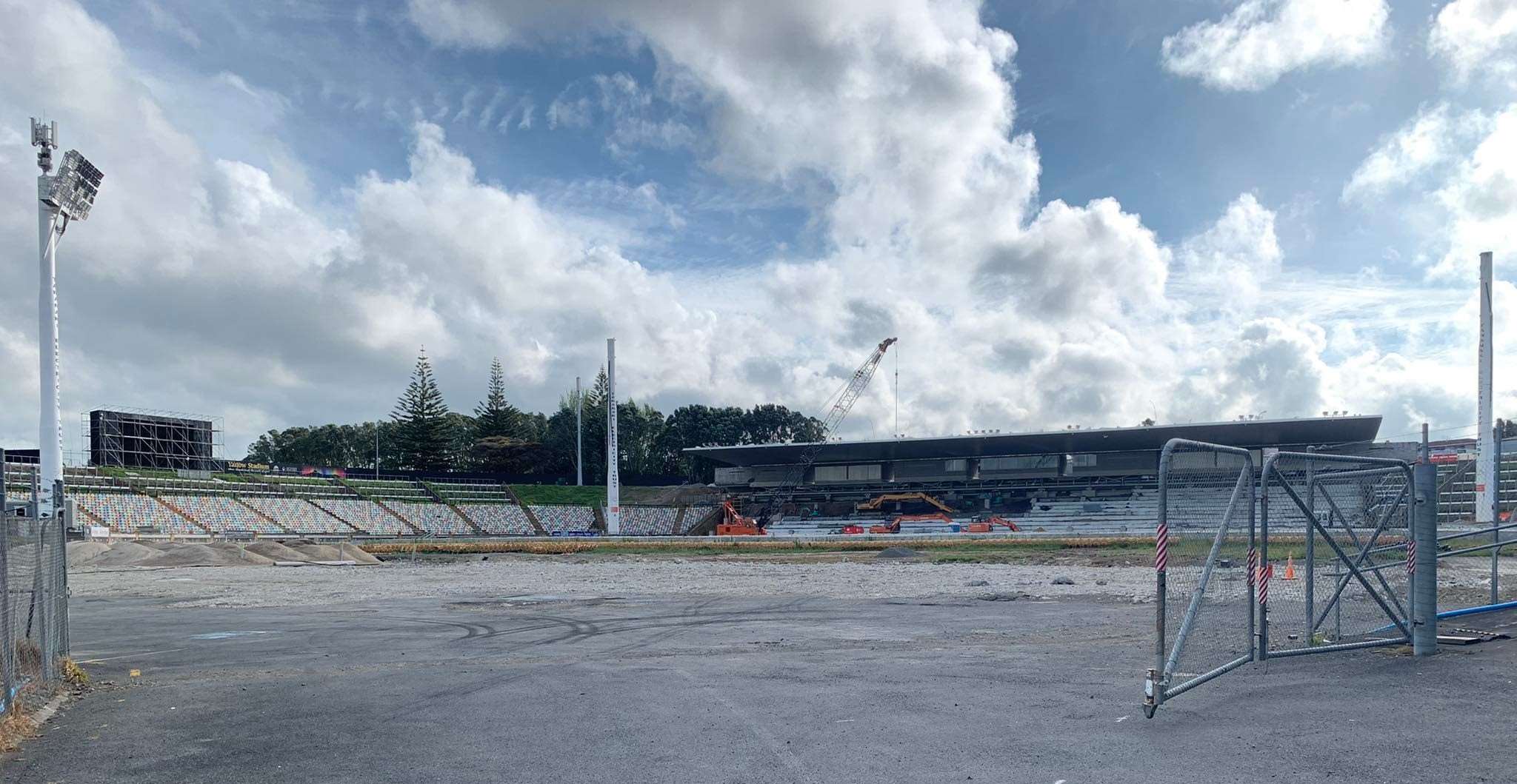 Will Johnston

Yarrow Stadium's new field will match reputable sports stadia around the world and will mark the first major renovation to the ground in over a decade.
Preparations begin this week to lay the GrassMaster hybrid turf on Taranaki's premier sports venue by Auckland-based company FieldTurf while repairs to the West Stand continue.
Once completed, it will feature a blend of natural turf grown through and among artificial fibre laid on a sand base.
The design is used on more than 640 pitches worldwide, including 80 per cent of Premier League venues in the United Kingdom. The turf is in use at top venues around the country including Eden Park, FMG Stadium Waikato, Sky Stadium, Orangetheory Stadium and Forsyth Barr Stadium.
The new turf will offer a lifespan of up to 15 years and 1000 playing hours a year tripling its use compared to a conventional turf.
Taranaki Regional Council (TRC) chairman David MacLeod said there is a process before sport can be played at the venue.
"Installation is expected to take approximately six-seven weeks and is followed by a six-week grow-in period for the grass. After that, the contractor will stitch the surface with the fibres, which takes around two weeks."
He said from an athlete's perspective, it's just like playing on normal grass.
The installation is the first full field renovation in over 10 years. While the ground followed an annual turf maintenance programme, a full upgrade took place in 2010 prior to the 2011 Rugby World Cup.
The field is in dire need of repair after the West Stand bleachers and seats were placed on it during the redevelopment, coupled with moving machinery and a gravel service track build around the perimeter.
MacLeod said the new turf is a win-win for the community.
"What's really exciting about the hybrid turf is that while it's particularly favoured for top-level fixtures, its quicker recovery time will make the main pitch more readily available for local and regional users," he said.
"The modern surface can sustain heavier playing schedules than is the case with previous traditional grass pitch."
He said Yarrow Stadium will "pretty much" be in a read-to-play condition.
"And that's better for players and punters," he said.
The accessibility of the pitch will complement the new East Stand. The design is yet to be announced, but the TRC said it will provide amenities at the back of the stand rather than opening the entire complex providing a more sustainable option for codes.
The venue's number two ground will also be replaced once the East Stand has been completed.
Upgrading the fields were originally in the stadium's 2015-2025 strategic plan.
The enhancements have been accelerated because the two grandstands were deemed earthquake prone in 2017 and 2018 and the $20million injection by the Government's shovel ready scheme.