2021 NZ Lawn Tennis Championships and Taranaki Open
Friday, Dec 31 2021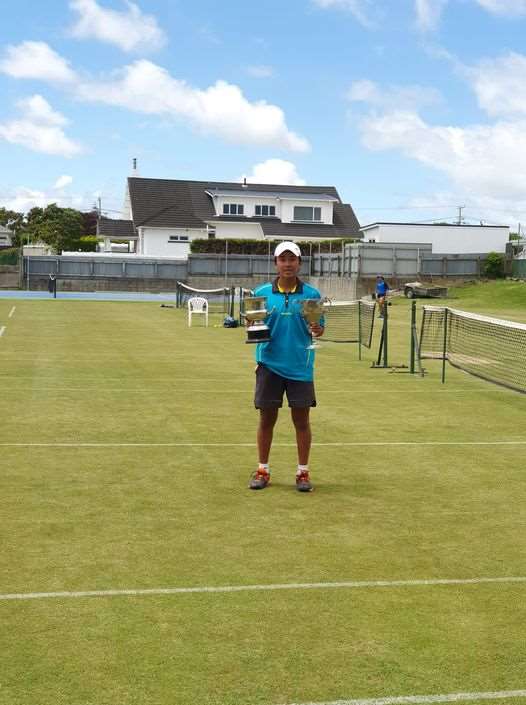 Tennis Taranaki
Defending Taranaki Open / New Zealand Grass Court Championship Men's Open singles champion and No.2 seed, Diego Quispe-Kim took on the No.1 seed and six times champion, Ajeet Rai in the 2021 final. 22 year old Rai, the No.1 ranked NZ singles player on the ITF rankings, took the first set comfortably enough 6-3 but then his game started to wane, allowing 16 year old Quispe-Kim back into the match taking the second set 6-2. The deciding set held high expectations for a good crowd at the Hawera Lawn Tennis courts but they were somewhat stunned to see Quispe-Kim race to a 4-1 lead with two service breaks and was able to close out the match 3-6 6-2 6-2. Both finalists had made easy entry into the final with Rai defeating Benjamin Ranby-Al (Te Awamutu) 6-1 6-1 and Quispe-Kim bypassing Hamish Mead (Taranaki) 6-0 6-1.
There were no such problems for New Zealand's No.1 ranked female player, Paige Hourigan, as she comprehensibly defeated Christchurch teenager Nishitha Maarka 6-0 6-0 in the Women's singles final.
Hourigan and Jade Lewis combined to win the Women's Doubles title. Hourigan then combined with Rai to win the Open Combined Doubles 6-0 6-0. Rai and local partner Luke de Villiers took out the Men's Doubles title defeating last year's champions Mark Belcher and Hamish Mead 6-2 6-2.
Grant Morris (Okaiawa) had a tremendous tournament winning a New Zealand title for the B Men's Singles and then combining with Luis Silva (Rotokare) to take the B Men's doubles title. Morris, achieved the singles title the hard way, winning his last three matches in third set super-tiebreakers, defeating Peter Lehrke (Auckland) 6-1 2-6 10-7 in the final. Brad Dowdle (Okaiawa) picked up his New Zealand title when going through unbeaten in the Social Men's singles, winning 6-3 6-1 over Shane Lahina (Wanganui).
The Tier 3 Taranaki Open Junior events were mainly dominated by a tour group from Auckland's Lavie Academy, but a bright sparks for Taranaki were Luke Barrett (Oakura) who won the 10 Boys Singles and the 12 Boys Doubles, Eva Dowdle (Manaia) winnings the 10 Girls Singles and Jorja Symes (Okaiawa) picking up the 18 Girls Singles title.