Moturoa claim Duchess Cup silverware
Thursday, Oct 07 2021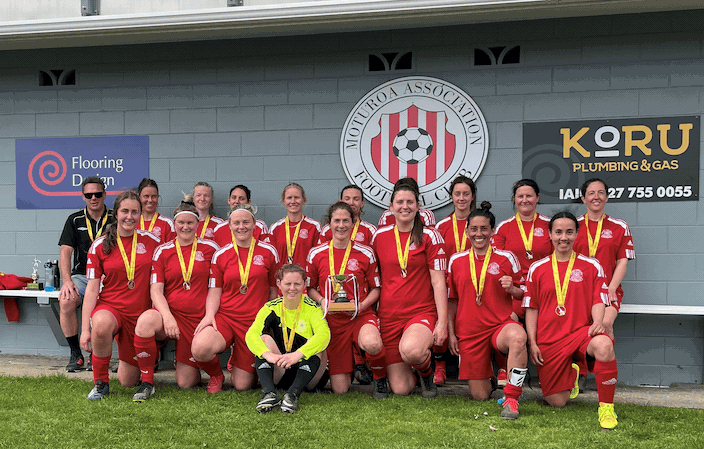 Brent Youngson
Tungsten Legal Taranaki Duchess Cup – Grand Final
Sunday saw the conclusion of the women's game in Taranaki for 2021 with Excel Refrigeration Moturoa playing Naki Electrical in the Grand Final of the Duchess Cup. Moturoa took the lead earlier through Player of the Day Paige Hareb but strong play from Waitara saw them only go into half time 1-0 down and well in the match. After half time though Moturoa pushed forward and showed why they won the league as they put in four second half goals to win 5-0 with Fernanda Toscani netting a brace. Moturoa have one last match to be played next weekend in the Women's Federation Cup final over in Hawke's Bay against Taradale for a chance to end the season with four major trophies a feat they achieved in 2019.
Tungsten Legal Taranaki Duchess Plate – Grand Final
Earlier in the day on Sunday the Duchess Plate winners were crowned as New Plymouth Girls' High School won 3-1 over 2020 Champions Liquid Beanz Peringa. In a great match up for long periods in was the school side that took their chances to lead 1-0 at the break and push on for the win. Hannah Andrews did get Peringa back in the match 2-1 with a brilliant free kick in the 60th minute but a wonder goal in the 83rd minute from near half way from Gemma Feek sealed the Plate for NPGHS.
Taranaki Duff Rosebowl – Semi Finals
In the first Semi Finals Rough Habits Hawera FC played TMT Building Ltd Moturoa AFC down at Turuturu Park in Hawera and it was Hawera that got off to the perfect start scoring in the 10th minute through Shannon Bryant. Moturoa then cracked into gear scoring five unanswered goals to win 5-1 with doubles to Tyler Buckland and Cameron Matheson. In the second Semi Final Rampage Fitness FC Western were pushed the whole way by Proglaze Waitara SC in a very tight battle at Lynmouth Park. Western scored in the 2nd minute through a Ethan O'Halloran penalty only for Waitara to strike back straight after half time as Luke Minnell slotted one home. With the match looking to head into extra time another penalty was awarded for Western with O'Halloran stepping up again to score the winner in 91st minute. It's now Moturoa versing FC Western in the Grand Final at Manukorihi Park next Saturday at 2:00pm.
Taranaki Nimmos Cup – Semi Finals
There was another tight battle down at Swansea Park as McDonalds Real Estate Stratford welcomed Division 1 league winners Shining Peak NP Rangers Oddbodz in the first Semi Final with Rangers just doing enough to win 2-1. The other Semi Final was a little more one side as Withers Coachlines FDMC Senior Team defeated Vertech NZ Kaitake HB's 14-0 thanks to Thomas Watson who got three goals plus braces to Daniel Whitaker, Kieran Cummings, Mehul Killa and Isaac Barbour. NP Rangers now play FDMC in the Grand Final next Saturday at 11:30am out at Manukorihi Park in Waitara.
Yorb Taranaki Men's Premiership
We had one last catch up match to be played to complete the season in the Men's Premiership with Cunningham Construction Kaitake FC hosting Novotel Woodleigh AFC and it was Kaitake that ran away 5-1 winners thanks to a hat trick to James Bevington.
Yorb Taranaki Men's Championship
We also had one last catch up match in the Men's Championship with the same clubs involved as Kaitake FC hosted Spectrum Decorating Services Ltd Woodleigh and it was Kaitake again who won this time 3-1 with Kyle Boonzaier netting the hat trick.