Thunder team named through draft process
Monday, Sep 06 2021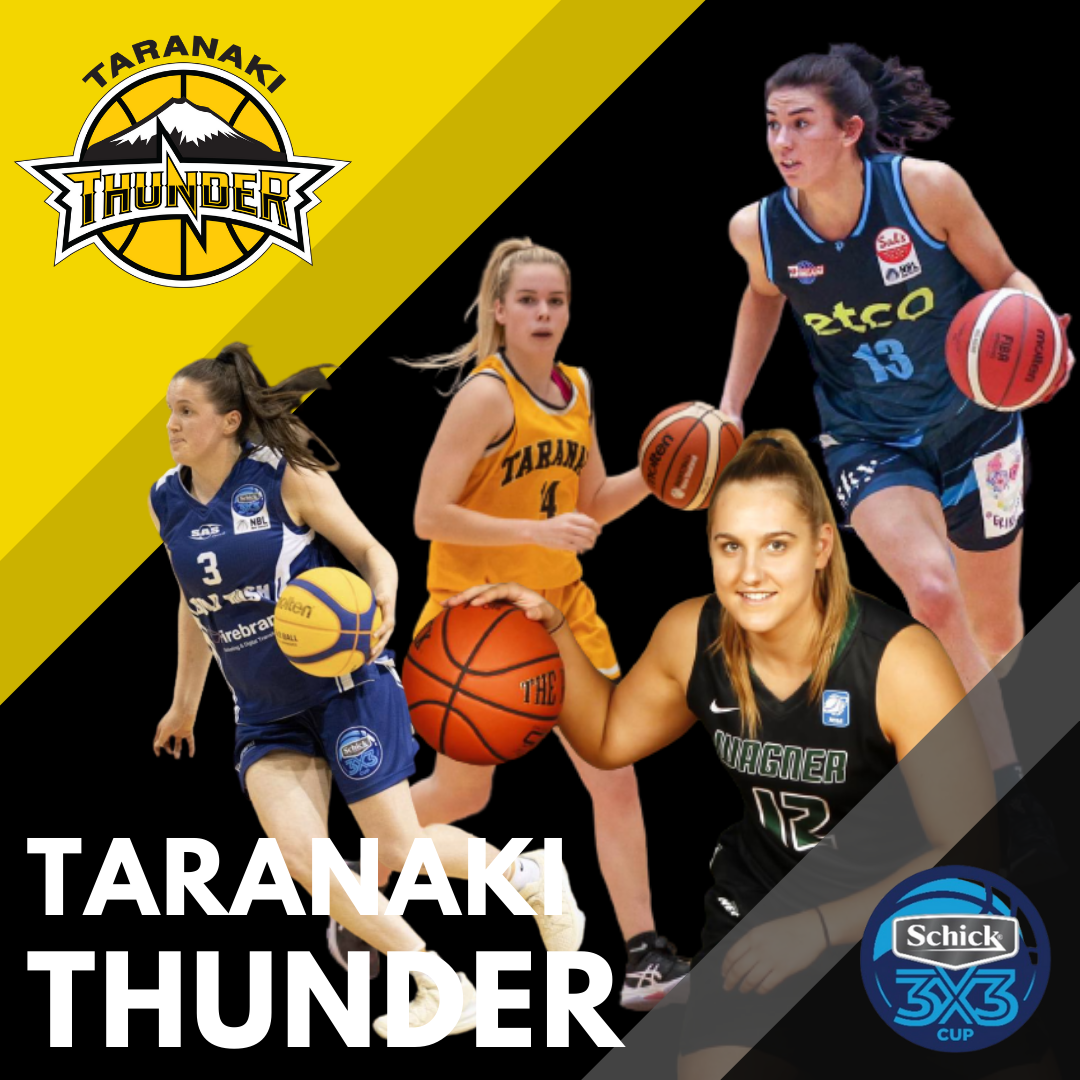 Supplied by: Bex Langton


The inaugural draft for the Schick 3x3 Cup was held last Wednesday. Ten captains, Huw Beynon, BBNZ Staff members - Maree Taylor and Jordan King and NZNBL CEO Justin Nelson presented a live show via Facebook on the NZNBL page.
Different scenario to 2020 where franchises selected their own teams (Taranaki came fifth from 10) with Vanessa Weir, Jenna Kensington, Isabelle Cook and Teghan Ngatai - combined age of 100 years; this year players had to register by 6pm on Wednesday and all teams had the opportunity to pick from the list.
Taranaki had previously selected guard Tara Clement as the captain, a fortnight ago, she was then charged with the responsibility of making selections with advice from coach Josh Reeves as well as GM of the Mountainairs Mitch Langton (her stepbrother and twice 3x3 Otago university national champion coach) on the phone to her during the live team selection.
Clement was a member of the Gold Rush team in 2020 which came fourth in the inaugural Schick3x3 Cup and is a current member of the Gold Rush NBL team. She was a member of the Thunder team in 2016, 2017 & 2019 and grew up in the Taranaki representative scene as well as being MVP of the Secondary Schools A Championship team in 2016 as captain of the Opunake High School team, coached by long time mentor, Angelo Hill.
Quality players were on the list including former Tall Ferns and Junior Tall Ferns, Stella Beck, Josie Stockhill, Esra McGoldrick and Sharne Pupuke-Robati. The draft order saw the Thunder with the eighth and due to a reverse snake order, the 13th pick with the third and final pick (four members of the team) being randomly drawn before the last round of selection.
The Thunder couldn't believe their luck that the eighth selection came around and the opportunity to select Esra McGoldrick came up! With no true forwards available in Taranaki, now that Raquel Sampson has left our shores to take up a Div II scholarship at Auburn University in Montgomery, USA, then Esra was an absolute first class pick for the Thunder.
"We are beyond delighted to have Esra selected for our team," Bex Langton, campaign manager of the Thunder said.
"She is a quality player who would have been on the draft list of many other teams. How she fell that far down the list? Wow, who knows? Luck was certainly on our side. We certainly were not going to pass up that opportunity!"
Celement's second selection was that of Caitlin O'Connell. A guard, herself a former Junior Tall Fern, O'Connell was an easy selection for Clement. Both had recently played together in the Stuff UTNZ 3x3 Tertiary Championship for Otago University, where they came Third. O'Connell, also debuted for the Firebrand Otago Gold Rush this year and made an impact in the teams opening two games. O'Connell was also a member of the 2020 winning Thunder D-League National title team.
"We were over the moon when Caitlin registered last week to take part in the Schick 3x3 Cup. We had to select her early in the mix as we are certain she would have also been on other teams' radars," Langton explained.
With the random draw order made, the Thunder had fifth selection. Clement selected Joellen How, another former New Zealand Junior Tall fern, and former member of National Secondary School Champion side, New Plymouth Girls' High School. How has recently returned to New Zealand shores after graduating from Wagner College, a Division 1 University) in New York. How was the recent winner of the Opunake Trays for Days shooting competition where she sunk 23/25 three-point shots including a shot from halfway.
"Joellen has been away from New Zealand for a few years so we were hoping that she wasn't as well known to other teams and that we took a gamble leaving her to the third pick," Bex Langton explained.
"We were slightly nervous though with Waikato having the fourth pick of the third round, as Kayla Manuirirangi, another Taranaki product, knows of Joellen's capability. It was a sigh of relief not to hear her name called out before our pick."
Interestingly, Clement, How and O'Connell's basketball careers all began at the same place. All three attended St Joseph's Primary School in Opunake. Eva Langton and Nico Hill are also products of St Joes and are making a big impact in the USA College scenes.
The Schick 3x3 Cup takes place, all going well, from October 14th - 16th at the ILT Stadium in Invercargill.
The top five finishing teams then will compete at the Christmas Classic at the Sky City Theatre in Auckland from December 9th - 11th, where a $10,000 prize is up for grabs.