Tysons East on top ahead of break
Wednesday, Jul 14 2021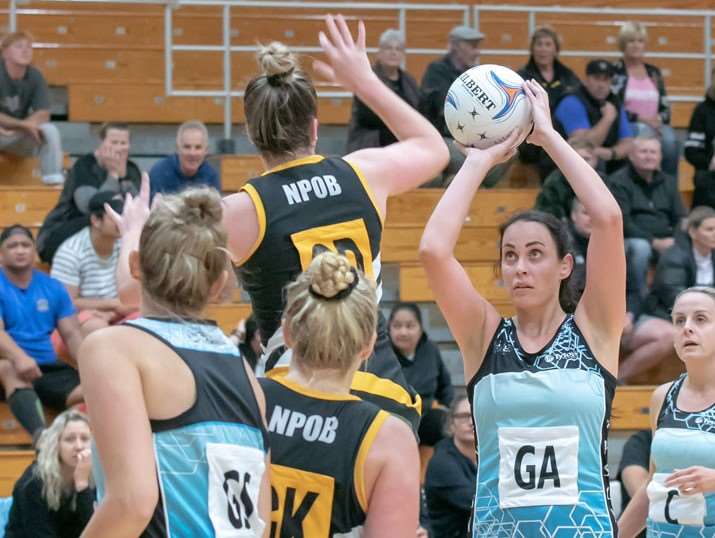 Tysons East earned the right to go into the two-week break of the Bayleys premier netball league knowing its firm competition favourites.
The Waitara-based side has an unbeaten record from eight outings and sit at the top of the standings.
It's two-point lead over second-placed Inglewood is down to its strong shooting circle. Connie Clement and Amber Ormond (pictured) contributed to its 524 goals scored – the highest in the competition.
Tysons East has also leaked the least number of goals with 285. Key to its defensive effort has been the athleticism of Dominic Williams-Riding. His ability to jump in front of attacking ball and leaping for rebounds has been instrumental to Tysons' winning form.
It's also been led by successful coach Che Tamati, who's been involved in five of the six consecutive championship wins. After a break away from the team last year, Jane Parker-Bishop was at the helm and coached it to a title last year and continues with Tamati this season.
Inglewood also has players at both ends of the court and have solid combinations.
Sisters Grace, Mechaela and Rebecca Major have been strong at their ends.
It has only lost one game against Tysons and accumulated 479 goals this season.
Inglewood will want to challenge for the number one spot before the semi-finals but are likely to be in the final, after bowing out of last year's play-offs.
There is a big gap to third where Stratford/Eltham sit with 19 points.
Its back-to-back wins against Raukura and New Plymouth Old Boys have been key to pick up some winning momentum.
New premier one team Raukura sit in fourth place on 18 points with three wins.
New Plymouth Old Boys have 16 points with two wins and Naumai have only bagged one win from 8 matches.
Naumai took a commanding lead in the premier two competition.
It sits seven points clear of Inglewood with Tysons West in third and Sacred Heart Girls College fourth.
Premier three is tight.
Six points separate leaders Bell Block Marist Dragons, Stratford/Eltham, Hawera High School and Inglewood.
It will be a tight race ahead of the semi-finals.
The premier competitions resumes on Thursday, July 29.
Semi-finals will be played on Thursday, August 5 and Friday, August 6 in Hawera, before the finals on Saturday, August 14 at the TSB Stadium.