Reid cleans up at Sports Awards
Sunday, Jul 11 2021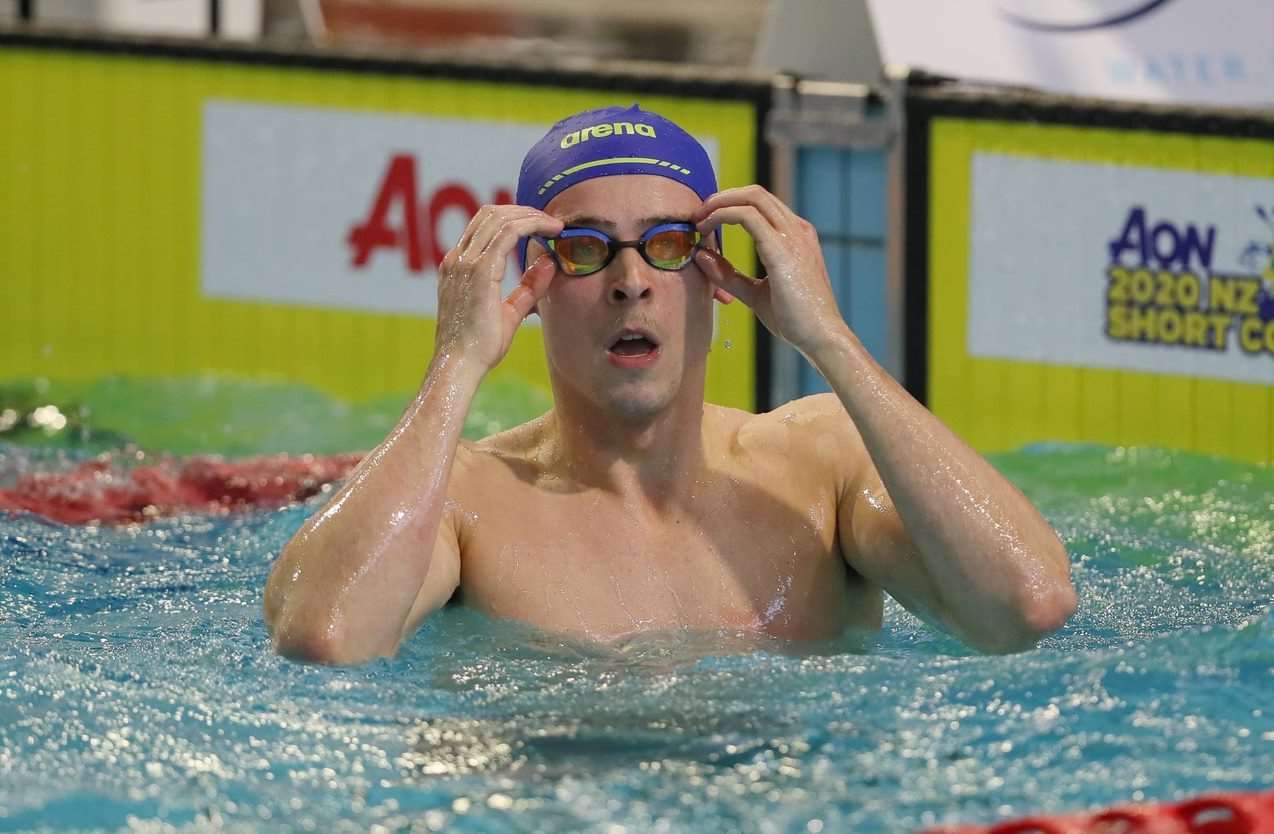 Taranaki Olympic swimmer Zac Reid has more silverware for the cabinet.
The 20-year-old won the overall Taranaki sportsperson of the year award and senior sportsman at the Taranaki Sports Awards at the Devon Hotel on Friday night.
It's the first time he's won senior awards after being nominated in the junior sportsman category previously.
The awards were cancelled last year amid Covid-19 but were reintroduced this year to recognise outstanding achievements and service by Taranaki athletes, coaches and officials over the last 18 months.
Reid was up against stiff opposition including international tennis player Ajeet Rai and All Black Tupou Vaa'i.
His record-breaking time, personal best and Olympic qualification at the ASA Championships in December was just some of many achievements for Reid during the nomination period.
Reid couldn't attend the awards because of a swimming camp in Auckland, in preparations for Tokyo, but spoke remotely.
He thanked his coaching staff and parents for their support. His parents accept the award on his behalf.
Sprinter Zoe Hobbs claimed the senior sportswomen award.
Hobbs, 21, is the fastest female sprinter in the country. She broke Michelle Seymour's 100meter record set in 1994 of 11.52 seconds in 2019 in just her second race of that year.
She was up against strong opponents too, including Black Sticks players Hope Ralph and Holly Pearson, surf lifesaver Claudia Kelly and Black Ferns trialist Iritana Hohaia.
East End's IRB Pumba team took out the senior team of the year for its national titles.
Reid's coach Sue Southgate bagged coach of the year and master athlete went to Joy Baker for her efforts in athletics.
Squash's Mick Jack claimed the official award and basketball's Arun Langton scooped the volunteer of the year.
Box Office Boxing picked up the club of the year.
In the junior categories, Ironman Joe Collins was the junior sportsman and rower Sophia Hodson the junior sportswomen.
Spotswood College's volleyball team won the junior team of the year.
There were service awards presented and legendary runner Sir Peter Snell was inducted into the Taranaki Sports Hall of Fame.
Former All Black Conrad Smith was guest speaker at the event and urged young people in sport to seek balance in their sporting lives.
Smith said playing a range of sports growing up and finding a passion for his studies and other interests ultimately helped sustain him at the highest levels of sport. Playing for the simple love of the game was really important, he said.
"You have got to love your sport, you have got to love what you are doing…that is what will get you back out there in the tough times."
2021 Taranaki Sports Awards winners:
Taranaki Sportsperson of the Year 2021: Zac Reid - Swimming
Senior Sportswoman of the Year: Zoe Hobbs - Athletics
Senior Sportsman of the Year: Zac Reid – Swimming
Senior Sports Team of the Year: 'Team Pumba' East End Surf Life Saving Club
Game Official of the Year: Mike Jack – Squash
Volunteer of the Year: Aarun Langton – Basketball and Golf
Coach of the Year: Sue Southgate – Swimming
Masters Sportsperson of the Year: Joy Baker – Athletics and Multisport
Club of the Year: Box Office Boxing
Junior Sportsman of the Year: Joe Collins – Surf Life Saving
Junior Sportswoman of the Year: Sophia Hodson – Rowing
Junior Sports Team of the Year: Spotswood College Boys' Beach Volleyball
Service to Sport Awards: Chris Wilson – Golf and Tennis Grant Scott – Football Mike Cameron – Motorsport Robyn Masters – Tennis Sue Southgate Swimming
Service to Secondary School Sport Awards: Link Abrams – Spotswood College Max Carroll – New Plymouth Boys' High School Taranaki
Sports Hall of Fame Inductee: Sir Peter Snell