Sports hub build a step closer
Wednesday, May 19 2021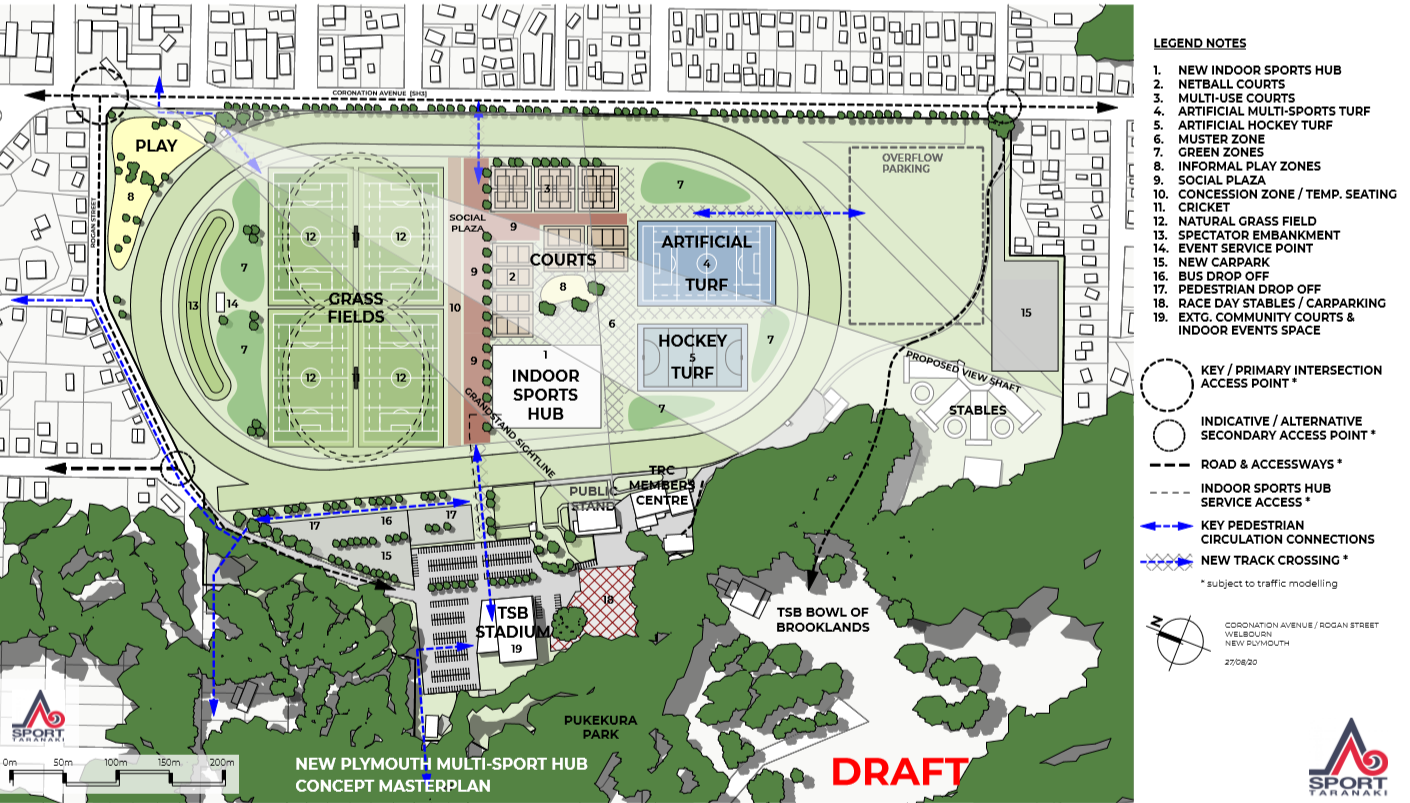 Will Johnston


New Plymouth's multi-sport hub is one step closer to being built after councillors voted in favour to move the project forward.
In an all-day meeting, New Plymouth Mayor Neil Holdom and several councillors voted in favour to budget for the Sport Taranaki-driven project for Year 4 of the draft long-term plan, two years earlier than originally recommended.
It will include a six-court indoor stadium, sports fields, netball courts, and shared turfs at a cost of $40million for the first stage at New Plymouth Raceway.
In a statement, New Plymouth District Council (NPDC) said the hub was a focal point during the feedback process and council voted to 'pay it forward' for children.
After much debate online and within council, the decision is welcome relief for Sport Taranaki.
In a Facebook statement, the regional sports trust said the result is great for everyone who has come together and worked hard over many years.
"[It] paves the way for a facility that helps us build a heathlier, more active community together."
It said councillors and the community agreed the 'need is now' for a facility.
"During a robust debate, councillors pointed to the strong collaborative community support for the project, widespread multi-generational benefits, robust planning and potential for external fundraising before agreeing to fund the project to start the hub building in Year 4 of the long-term plan.
"Sticking to this timeline allows the project to move ahead with confidence into the detailed planning phase, while work to secure funding from other sources can move to the next level," the statement continued.
Recent work started on the hub when Sport Taranaki conducted a needs assessment.
It identified an urgent need for turf and indoor court space after mammoth growth in hockey and basketball.
Surveys and consultation was also completed by Sport Taranaki and showed nearly 50 per cent of people wanted the hub. This was back up by many sports organisations, local and national, schools and WITT.
Other items included in the plan were extending the Coastal Walkway, adding water meters to houses, investing to fix Waitara's stormwater problem and invest in upgrading NPDC's fleet to electric vehicles.
The cost of the proposals included in the draft means an approximately $231 rates increase in the first year with an average of 6 per cent increases over the following nine years.
The adoption of the final plan will take place at a public hearing on June 16. The final plan must also be given the green light by Audit New Zealand.