Multi-sport hub a step closer
Thursday, Sep 03 2020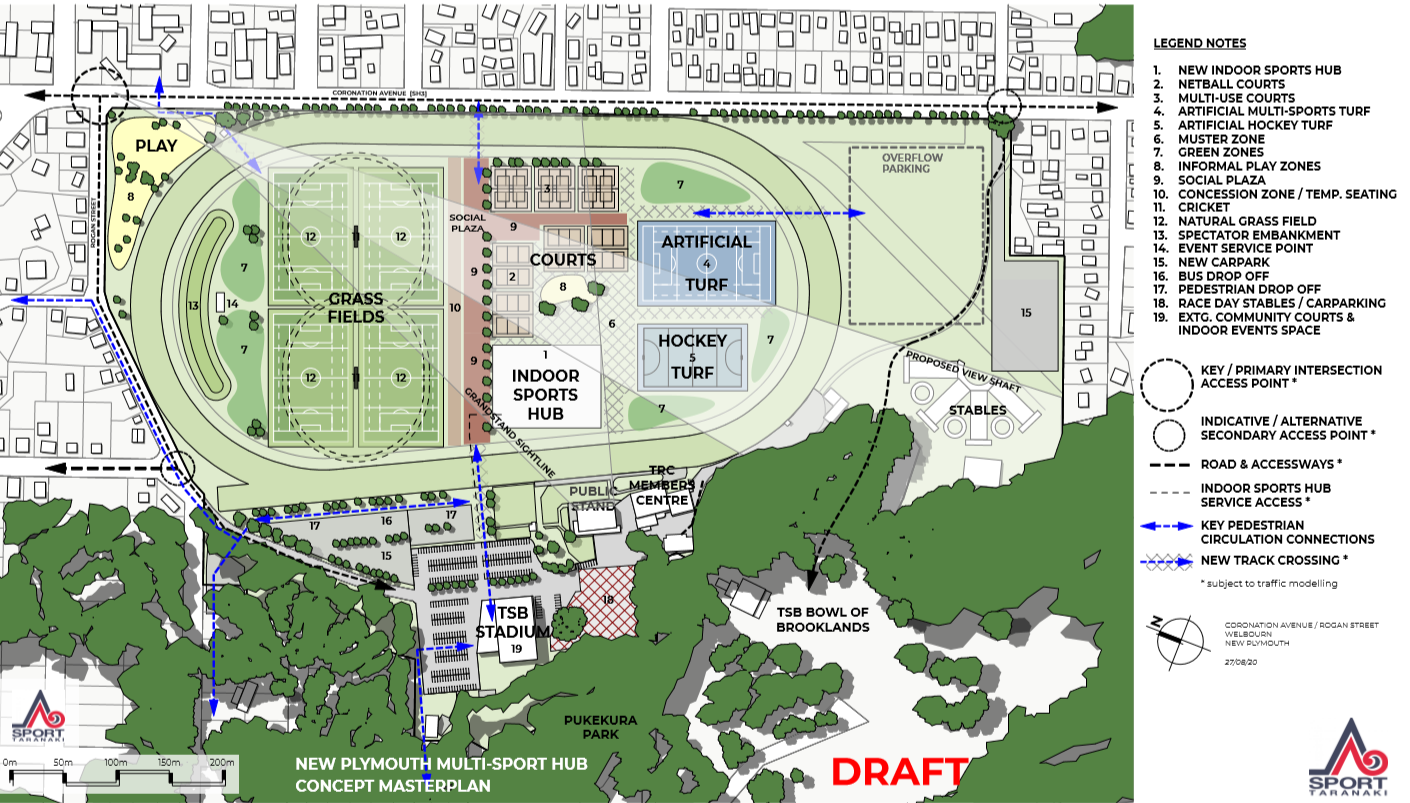 Will Johnston
Funding sources for the multi-sports hub at New Plymouth's racecourse are yet to be finalised but New Plymouth ratepayers are likely to fund a portion of the $91 million project.
Sport Taranaki released its plans to stakeholders today and the hub will solve several facility issues for sports as well as creating an intergenerational recreational space for the community.
Plans include a six-court indoor stadium, movement space, hockey turf and facilities to accommodate a range of other sporting activities including rugby, cricket, badminton, volleyball, basketball and netball. These will all be situated in the middle of the raceway.
The project won't be completed at once, instead it will be rolled out in phases with the first including the stadium and turf costing $62.5million.
It is expected that other funding agencies, along with ratepayers, will top up the remaining money needed to fund the project, Sport Taranaki chief executive Michael Carr said.
He said while the total cost was significant, they are focused on the project's initial stage.
"Ultimately it's about this first phase. That cost is about if we were to build it all now and we know that there will be some quite long variations of that. We want to concentrate on what's achievable first."
The project will need to be included in the New Plymouth District Council's Long-Term Plan and be subject to community consultation.
The hub will improve health outcomes across the community through welcoming, easily accessible and flexible leisure space, Carr said.
He pointed out the project is a once-in-a-generation opportunity that would have far-reaching community and health benefits.
"Our sportspeople are crying out for this facility and as a community recovering from the impacts of Covid-19, we need ways to make it easier for people to get more active. This hub will be much more than a sporting facility; this will be a focal point for a more connected and healthier community."
The need for the multi-sports hub came to light after a Community Sports Facility Needs Assessment was completed last year. It found there was an urgent need for indoor court space and artificial turfs.
Hockey, basketball and volleyball are three sports in which playing numbers surged with the lack of facilities to cope. Hockey's participation rates increased by 31 per cent in four years, basketball grew 9 per cent and volleyball saw a 48 per cent surge in the same period.
Analysis from the assessment showed the three sports did not have enough space, while premier netball was short of indoor competition space.
"We now have another chance for a step-change for the city that is needed now but will become part of the community fabric in the future that makes us special," Carr said.
Community feedback will be sought in the coming months, with the project included in the NPDC Top Ten Korero from September 29-October 5.
New Plymouth councillors will vote whether to include the project in the Long-Term Plan consultation in December.