CMK premier club rugby squads for 2022
Thursday, May 05 2022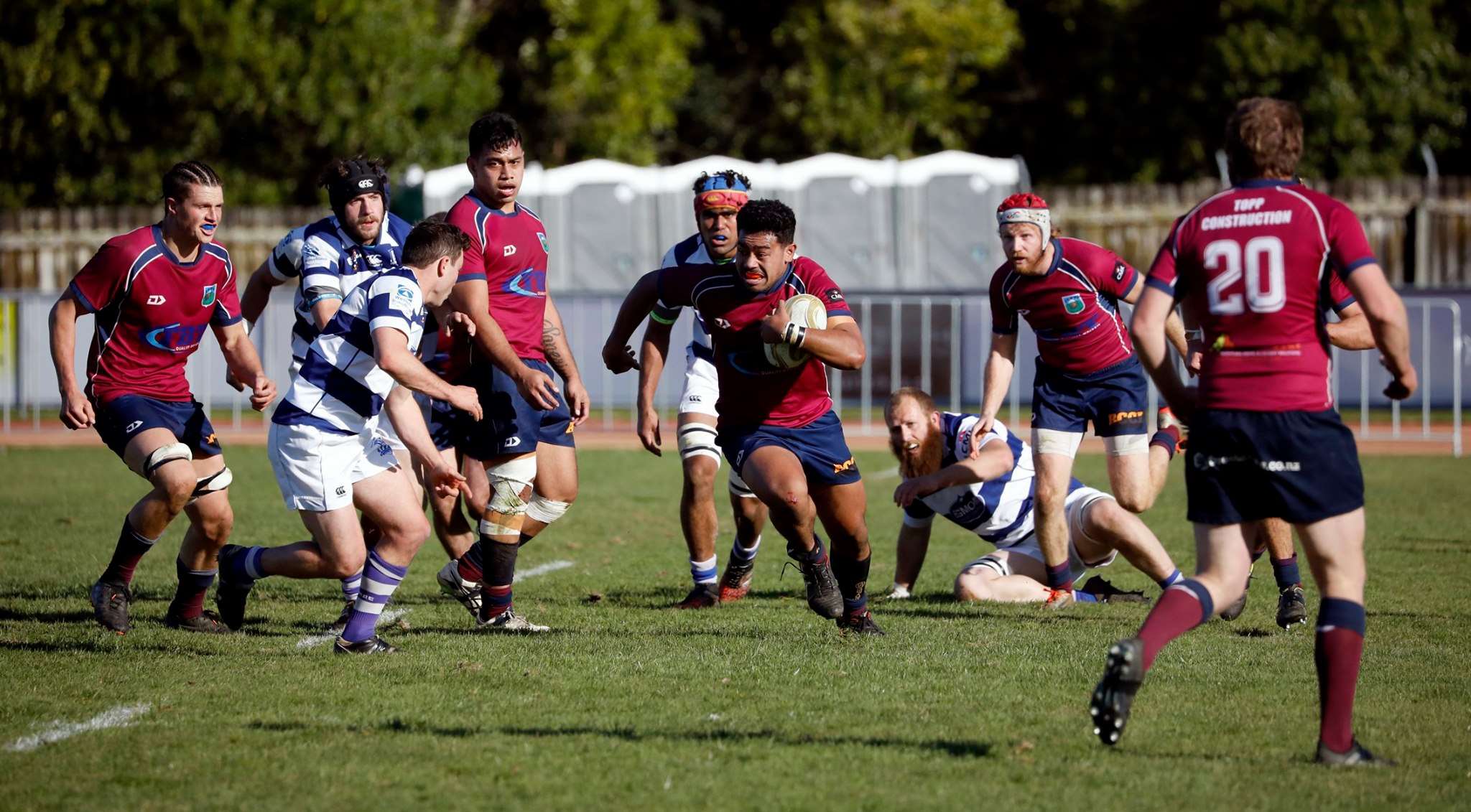 Photo by: LDV Photography
Sports News Taranaki looks at each premier squad competing in the CMK premier club rugby competition, which begins this weekend.
Inglewood
Last year: winners
Overall titles: 14
The defending champions have maintained a large group of players after winning last year's final in wet conditions against Coastal. They also welcome back some old heads too. Midfielder Luke Brown, outside back Lachie Bunn, front rower Ben Baylis and utility backs Paris Faapulou and Troy Chilcott rejoin the squad for this season. They join Taranaki lock Mickey Woolliams who was called into the NPC side last season. They will be without lock Jack White and Brooke Harvey Smith who are both playing professionally in Spain and England respectively. Mils Sanerivi's contribution for Inglewood remains uncertain given he is playing in the Major League Rugby competition in the USA and will depend on if his team plays in the finals. Back Avon Lewis is unlikely to play because of ankle surgery but All Blacks sevens player Rhodes Featherstone is expected to play when available. Chief Mitchell Brown and Highlander Rhys Marshall have been named, but if they play remains to be seen. Coach Andrew Retallick said Crusader Faletagoai, Woolliams, Christian Fa'avae, Josh Jacomb, Salesi Havea and Cody Chillcott are players to watch.
Squad: Luke Bunn, Crusaders Faletagoai, Matthew McDougall, Bradley Whitemore, Timo Tutavaha, Cam Shotter, Benn Bayliss, Mils Sanerivi, Rhys Marshall, Hayden Kilpatrick, Mickey Wolliams, Hayden Keeling, Mitch Brown, Christian Fa'avae, Corbin Fabish, Shem Setu, Parris Faapulou, Ricky Curtis, Rhodes Featherstone, Johnny Faletagoa, Jonathan Fidow, Ben West, Troy Chilcott, Josh Jacomb, Cody Hall, Salesi Havea, Cody Chilcott, Luke Brown, Lachie Bunn, Steven Snoxell, Isaiah Hooper, Jayden Fabish, Richard Clough, William Moala.
Coastal
Last year: second
Overall titles: 2
A team that always seems to be pipped at the final hurdle, a nuggety, committed club will strive again for top honours in premier rugby. Beaten last year in an unattractive wet final against Inglewood, experienced campaigners Jeremy Newell, Dylan Schuler, Black Barrett, Chris Gawler, Rick McKenna and Logan and Daniel Crowley will return for the Coast. They will be back full of relatives like brothers Logan and Daniel in the backs along with George, Beni and Alex Kalin in the forwards. Thomas and father manager Gerard are distant relatives making it a typical Coastal family affair. The pairing of Logan and McKenna will make for a threatening backline with their forwards always able to challenge any team. They will be without lock Josh Lord, who is with the Chiefs. Trent Oliver re-joins the squad to coach after a stint refereeing alongside Alan Crowley. Expect hearty supporters to follow Coastal around this year.
Squad: Taumauru Hond, Shamus Hurley-Langton, Alex Kalin, George Kalin, Beni Kalin, Kayden Luke, Blake Barrett, Richard Beckett, Chris Gawler, Mark Martin, Jeremy Newell, Dylan Schuler, Harry Foreman. Ben May, Ben Brophy, Heiny Fourie, Thomas Kalin, Arepa Bishops, Morne Pistorius, Liam Parker, Logan Crowley, Daniel Crowley, Rick Mckenna, Jackson Sinclair. Kobe Sinclair, Jeremy Gopperth, Finnley Binsbergen, Brent Gwatkin, Harry Symes.
Tukapa
Last year: semi-finalists
Overall titles: 17
After being pipped by Coastal in last year's blockbusting semi-final, Tukapa has acquired several players for this year's campaign, including three from out of the province. Prop Tom Edwards has joined the team from Canterbury along with first-five eighth and fullback option Keahn Tipu from the Gold Coast and former Wellington B halfback Campbell Woodmass. Former Francis Douglas Memorial College captain Josh Keech will also line up for Tukapa this year at loose forward. Midfielder Lukas Halls and flanker Chris Jollands are back after missing last year's campaign with prop Scott Mellow, lock Leighton Price, loose forward Mitchell Crosswell and midfielder Pomare Samupo also back. After an off-season shoulder operation, first-five eighth Jayson Potroz will likely be missing for all the club season which will be a loss in the backline. But with the new recruits and backline options, Tukapa will find a solution until Potroz is fit to play. The team will be coached again by Ben Siffleet and Nathan Lawrence.
Squad: Alex Perry, Brendan Dent, Chris Jollands, Corbin Porteous, Jacob Richards, Josh Hopkins, Josh Keech, Leighton Price, Liam Bernet, Luke Dravitzki, Mairrenga Lappo, Mike Nyssen, Mitchell Crosswell, Nathaniel Peters, Patrick Symes, Ricky Riccitelli, Scott Mellow, Shay Smith, Tom Edwards, Brendan White, Campbell Woodmass, Eli Ratumaitavuki-Kneepkens, Ethan Seed, Hayden Chamberlain, Henry Miles, Isaac Ratumaitavuki-Kneepkens, Jacob Ratumaitavuki-Kneepkens, Jayson Potroz, Keahn Tipu, Lukas Halls, Lagen Kumeroa, Luke Taplin, Pomare Samupo, Rory Ward.
Stratford/Eltham
Last year: semi-finalists
Overall titles: 24 (most out of any club combined with Eltham)
A team that seems to be getting betting under coach Ross Williams, Stratford/Eltham's form last year earned them a place in the top four, only to be outclassed by Inglewood in the last 20 minutes of the semi-final. But this year, they've been further bolstered by the recruitment of key players. Promising loose forward Rowan Slater joins the team from New Plymouth Old Boys. The son of former Hurricanes and Taranaki prop Gordon will be dangerous around the breakdown. Former New Plymouth Boys' High School lock Peter Te Kahu is another player who's ventured south. His tall frame will be of value in the Stratford/Eltham lineout. They will rely on stalwarts Matthew Kissick, Scott Jury and Hemopo Cunningham up front and Nick Childs, Nathan Clough and Rocky Olsen in the backs. Flying Taranaki winner Vereniki Tikoisolomone has sided with Stratford/Eltham.
Squad: Alex Mitchell, Aaron Tosland, Michael Back, Fletcher Lourie, Jordan McFarlane, Kyle Stewart, Trent Rowlands, Sam Laing, Matthew Kissick, William Butler, Peter Te Kahu, Rowan Slater, Scott Jury, Hemopo Cunningham, Codie Grayling, Nick Childs, Adam Lennox, Jack Meads, Dawson Austin, Rocky Olsen, Lyle Crudis, Dayle Bailey, Chayce Bailey, Nathan Clough, Nick Merson, Jack Beatson, Niwa Barlow, Benny Katene, Vereniki Tikoisolomone, Willem Ratu, Blake Christie.
New Plymouth Old Boys
Overall titles: 17
Without making the top four last year, New Plymouth Old Boys' squad looks balanced heading into the season. They have welcomed a number of talented players into the squad like pivot Cullen Murfitt and former New Plymouth Boys' High School fast fullback Mason Milham. NPOB will be without Daniel Waite for the first three weeks, when he returns from playing for Rouen in France's second division. However, they are boosted by former Taranaki utility back Codey Rei and there is hope for midfielder Brayton Northcott-Hill to be ready after recovering from injury. Injuries ravished the forward pack last year, but if they stay fit, they could challenge any team. Taranaki prop Donald Brighouse returns along with Jackson Morgan and Michael Loft, who are physical players. Chiefs reps Bradley Slater and Kylum Boshier are named in the squad but how much club rugby they play remains to be seen. Michael Carr re-joins to coach the side with Andy Slater, Hamish Mitchell and Daniel Brookes.
Squad: Donald Brighouse, Toby Burkett, Perry Lawrence, Mitchell O'Neill, Deken Rooks, JJ Pokai, Bradley Slater, Matt Burgess, Brent Tucker, Jackson Morgan, Josh Dowsing, Shaan Waite, Brodie Lilley, Josh Rei, Daniel Waite, Brayton Northcott-Hill, Cullen Murfitt, Adam Smith, Josh Thomson, Matthew Guthrie, William Luff, Mason Milham, Zac McDonald, Codey Rei.
Clifton
Overall titles: 11
Clifton's results in recent seasons haven't been good enough to reach any play-off berths. They have tinkered with different coaching combinations over the years too, but have settled with form Hurricanes, Chiefs and Taranaki coach Colin Cooper for the season who will give the rural club inspiration. Cooper has selected a large squad, with some of them able to play a combination of Division 1 and premier. They've recruited former Manawatu back Matt James into the squad and he will be joined by brothers Josh and Hanley Setu in the backline. Taranaki halfback Liam Blyde will be the preferred choice to start with last year's New Plymouth Boys' High School nine Topia Barrowcliffe likely to be on the bench. If Daniel Rona and Matt McKenzie get going they will be a threat, especially with Samoan sevens speedster Indiha Saotui-Huta out wide. The forward pack remains relatively settled with former Hurricanes prop Mike Kainga to provide leadership up front along with experienced front rower Abe Haira.
Squad: Aaron de Ridder, Abe Haira, Api Dawai, Ben Kauvadra, Blair Shorter, Brandon Pokere, Caleb Fowell, Conor White, Cole Blyde, Daniel Guthrie, Daniel Rona, Fati Moeahu, Hanley Setu, Indiha Saotui-Huta, Jared Profitt, Johnitani Boi, Josh Setu, Keani Broughton, Kimo Faoagali, Liam Blyde, Tomas Faoagali, Matt James, Matt McKenzie, Mike Kainga, Paddy O'Carroll, Pita Kwan, Paul Faoagali, Reece Innes-Gray, Taylor Haskell, Topia Borrowcliffe, Whetu O'Carroll.
Spotswood United
Overall titles: 1
After winning the championship in 2019, Spotswood United has struggled to maintain form. But they're not short of players for this year's campaign as coach Junior Togia has selected a large squad. Experienced players are back like lock Jacob Bourke and former Samoan and Taranaki midfielder Paul Perez. Outside back and leading try scorer last year with eight, Kustino Drauna has been highlighted as a player to watch. He spent some time in the Chiefs U18 squad last year. Meli Sefia will prove vital in the front row this season. He is classed as a rock in the front row and carries strong. Another player to watch for Spotswood United is Louis Bartley-Saena. He's had experience in the Melbourne Rebels age group teams along with the Blues and Samoa U20. Although he didn't play much last year thanks to injury, the club is looking to see him run the cutter. Jamahl Hapi has joined the squad from New Plymouth Old Boys. Stalwart Jade 'Jiddles' Morgan will manage again.
Squad: Ailepata Lemalu, Amaani Vercoe-Aoina, Campbell Grayling, Fenni Sofeni, Isaac Tuia, Jacob Bourke, Johnathon Fidow, Kale Coyne, Mathew Tupa, Meli Sifa, Mikaere Bell, Nacanieli Raniu, Pita-Gus Sowolakula, Rikki Sofeni, Sione Sifa, Tamati Taylor-Tupaea, Tawera Baker, Byron McDermott, Daniel Fa'aseu, Ethan Reti, Ezra Low, Jack Hartley, Jamahl Hapi, Josh Perrett, Keenan Tamarapa, Kusitino Drauna, Louis Bartley-Saena, Malachi Reweti, Paul Perez, Sione Tomu, Tjontae Morunga, Tutewhenua Tupaea, Holyfield Kapsin.
Southern
Overall titles: 1
Former Mid Canterbury development backs coach, South African Craig Dwyer is at the helm of Southern this season replacing Kepa Grindlay. Dwyer is also the club's club rugby development officer and will be no stranger to rugby in South Taranaki. There are several new names in the Souther squad for the year, but one of the big ones is Taranaki and former Irish prop Michael Bent. Bent returned home last year from a stella international career and will not only play for Southern but will be the scrum coach. Jesse Parete has been selected but it's unsure how much he will play given he's playing in the USA competition. A name known to Southern, Plumtree, features in the squad, with John's nephew, Caleb, selected. The backline is full of familiar faces with halfback Sean White, Cody McGrath, Jade Taylor, Brent Landers and former New Zealand sevens rep Lewis Ormond. His brother, Jackson, has retired after a long career with Southern.
Squad: Saia Aholelei, Liam Nelley, Michael Bent, Brad Saxton, Wilson Parata, Luke Macleod, Caleb Plumtree, Walter Cole, William Chubb, Rob Northcott, Aston Talaia, Mahaki Akauolo, Tom Simons, Brendon Mobbs, Jesse Parete, Dylan Skipworth, Peter Northcott, Sean White, Cody McGrath, Mack White, Tekpepa Grindlay, Meihana Grindlay, Tyran Wallace, Jade Taylor, Reegan Corbett, Juan Tantrum, Caleb Parete, Zane Firth, Jalen Luke, Lewis Ormond, Brent Landers.