Dream comes true for bowlers, Garrud starts well
Tuesday, Jan 18 2022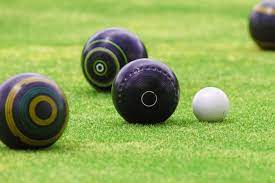 Grant Hassall
A long-held family dream of the Ranford brothers combining in the Taranaki men's Open fours is coming true this week.
Four brothers from the famed Hāwera family – Bill, John, Keith and Peter junior – commenced the Open playing at the West End greens in New Plymouth yesterday.
"It's been a long-time coming," said Bill, the eldest.
The Ranford family were mighty contributors to the Nolantown club, where father Peter senior, like Bill, became a life member.
An entrepreneur and go-getter, Peter senior was instrumental in establishing the richest bowls prize in Taranaki, the Nolantown classic.
The tournament remains popular, and has been held at the Tower club ever since Nolantown merged with Hāwera.
While the brothers, who also have two sisters, grew up at Nolantown club, Bill acknowledged it was mother Noelene that had been the glue that kept the family together.
The initial desire to play together was sparked by another brother, Ron, who now lives in New Plymouth and plays for Fitzroy.
"I had asked them for years to join together," Ron said. "But they were always too busy – until this year."
Unfortunately for Ron, when the brothers made the call earlier in the season he had already committed to another side.
But there is some consolation – and initial bragging rights.
The brothers are all staying with Ron for the week. And while the four Ranford brothers lost both games on the opening day – including a second-round defeat to last year's runner-up Raymond Martin (Victoria) – Ron's side, which is skipped by Bill Johnston, had a win and a loss.
The loss against Martin showed the Ranford brothers are still more than capable, as they clawed back into the match but fell short, just, 22-20 against one of the tournament favourities.
Among the more favoured teams doing well and recording two wins on the opening day were Martin, Gary Lawson (Stokes Valley), Dan Delany (Ellerslie), Kevin Smith (Hinuera), Kevin Coombe (Aramoho) and defending champion Dan Dickison (Tauranga).
Lawson skipped in the morning round as his side defeated Waitarere Beach's John Michael 27-10. Lawson led in the afternoon, with Lance Pascoe skipping, as the side trounced Taranaki gold star holder Des Lowry (Rahotu) 38-12.
But Maurice Symes (Renwick), who opened with a win, was undone by current Taranaki singles champion John Garrud (West End) 24-12 in the afternoon. Garrud won both.
Among the most impressive of the Taranaki teams to record two wins were Craig De Faria (West End), Kearin Pollard (Hawera Park), Steve Muller (Oakura), Adam Collins (Oakura) and Hamish Kape (Paritutu).
De Faria, the 2019 winner, dispatched Jason Hawe (North End) 28-17 and then Ian Coombe (Mairangi Bay) 34-9.
Kape started with a resounding 33-18 win over Cary Pinker (Wanganui East) and then overcame Kelvin Bishop (West End) 26-9, the score blowing out with Paritutu winning the last seven heads.
Garrud starts strongly in Open
West End's John Garrud gave a timely reminder of just what a consistent performer he is on the opening day's play in the 117th Taranaki men's Open fours at Fitzroy yesterday.
Garrud has often flown below the radar but has compiled a more than useful record in the sport. That includes eight Taranaki titles, two of which came as a member of Gary Lilley-skipped sides that triumph in the Open in 2008 and 2009. Garrud, who also won the Taranaki open singles last season, was also a member of the victorious Taranaki NZ intercentre side in 2015.
And based on the effort of his side, and especially himself yesterday, he has many good moments still in front of him in bowls. Garrud is this week skipping Steve Temperton and the Candy brothers, Neil and Bruce.
They opened their week with a 27-16 win over a Paritutu team skipped by Allan Batley, in his own right an Open success story with three previous titles.
But it was the second round victory over Maurice Symes (Renwick) which particularly caught the eye. Garrud's side won 24-12. Symes' side includes Kevan Greenwood, Lawrence Quek and Paul Matheson – who incidentally was runner-up in the prestigious Burnside pairs on Sunday and only arrived in the City later that evening.
Symes had begun with a 24-16 win over Allan Child (Upper Hutt). But Garrud hit Symes from the opening end, claiming four shots, and was never headed thereafter. Symes took counts of three on both the third and eighth ends, the latter bringing the score to 9-7 in Garrud's favour.
Garrud then cribbed out to 15-9 in front, after 15, before extending it to 21-11 through 20 ends, and rounding out the match. Three other teams in Garrud's section 12 also completed the day with two wins: Phil Morgan (Te Puke), Chad Nathan (Birkenhead) and Bill Clelland (Levin).
In addition to the four unbeaten teams in section 12, a further 40 teams — giving a total of 44 — ended day one with unblemished records.
Dan Dickison is in that group, but the defending champion, playing with his same Tauranga side of Lance Tasker, John O'Shea and Steve Hughes, got one hell of a fright in the afternoon in section seven at Lepperton against Steve Smith (Whangarei).
Dickison had beaten Joe Johanson (Bay View) 25-19 in the morning, while Smith had edged a team of fast-learning juniors headed by Brian Needham (Stratford-Avon) 25-22. Smith called the tune in the first half of the afternoon clash, leading 13-4 after 13 ends.
Dickison clawed back a single on the next before, crucially, taking a seven on end 15. That tightened the game up.
A five to Dickison on the 22nd end gave the BOP side some breathing space, but a four to Smith on the penultimate head saw the deficit reduced to just two shots. However, Smith's side could only manage a single on the last, leaving Dickison the victor at 25-24.
Elsewhere in the section, Scott Roberts (Tower), Gareth Evans (Johnsonville) and Sanjhe Prasad (Riverside) also won twice. Playing on the slick Stratford-Avon surface, section four had the longest day. The morning clash between Mort Jones (Hillcrest) and Mark Noble (Takaro) had completed only 22 ends when the 1.30pm time limit lapsed.
Both teams quickly returned for round two, with Noble clashing with another likely team, Cary Pinker (Wanganui East). The game took on extra spice, given the uncertainty of the morning round for Noble and as Pinker had been soundly disposed of, 33- 18, by Paritutu's Hamish Kape. Things were looking particularly dicey for Pinker after 15 ends, with Noble in control at 20-7.
But every bowler that has played 25 ends knows how peculiar the contest can be — and so it proved. Pinker took a four, a two, a four, a four, a three and a single.
Suddenly, after 20 ends, Pinker was in front 25 -20. Noble closed it to 25-23 after 22, but two singles and then a four on the last end ensured a 31-23 win for Pinker in the match that finished just after 7pm.
Noble's side, however, regained their composure to re-engage with Jones. Noble took a three on the first end after the resumption, giving the Manawatu side a 29-23 advantage. Jones could only get three shots on the last two ends, Noble winning 29-26 at 7.40pm.
Kape was arguably the pick of the five unbeaten teams in the section.
After defeating Pinker, his side then beat Kelvin Bishop (West End) 26-9. Marty Doak's Far North RSA side worked hard for two narrow victories, while Bryan Godber (Omarunui) inflicted more difficulties on Jones' campaign when the Hawke's Bay team won its second of the day 26-21. Mike Oldfield (Tauranga South) and Naki Nehemia (Johnsonville) both won with a degree of comfort twice.
There were plenty of other stories of delight and despair during the opening day's play. Pihama's Terry Mullin, a loyal supporter of the tournament, dropped both games despite being competitive in both outings. His side went down 32-25 to hard-working Oakura administrator, Steve Muller, 32-25, and was then nosed out 26-23 by Deano Hopkins (Kia Toa). Mullin's agony was dropping an eight soon after the afternoon tea adjournment.
Conversely, Muller won twice, after posting a 26-18 win over accomplished Wanganui East draw bowler, Garry Petersen. Petersen had started with a 25-20 win over Malcolm Moore (Hillcrest).
Muller was joined on two wins by clubmate Adam Collins. Oakura's other side in the event, skipped by the wily Allan Bridgeman, had one win and one loss. The loss came in the morning, 30-15, to the unbeaten Peter Belliss, who was less convincing in seeing off Dennis Gladding (Waimea) 21-14 in the afternoon round.