West stand bleaches back before Christmas, project on budget
Thursday, Dec 09 2021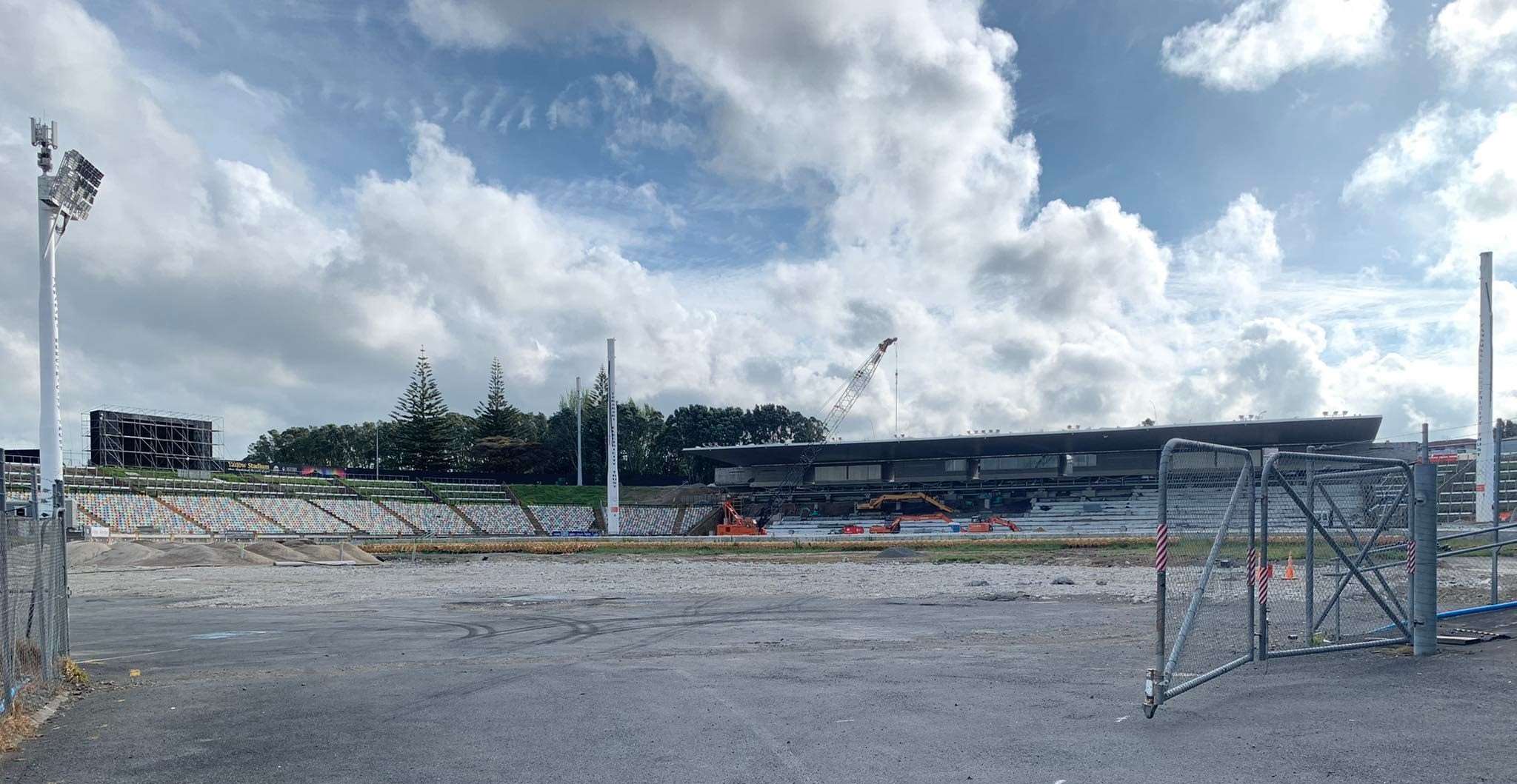 Will Johnston

Yarrow Stadium's west stand will be like putting a large jigsaw together.
By Christmas, the stand's 351, 2.5 tonne bleachers will be put back in place by crane after spending nine months sitting on the field while earthquake strengthening took place.
Extensive reinforcements began 12 months ago and included improvements to ground stability, foundation tiebacks and new steel beams. Local firm Clelands Construction won the tender for the stand's project.
The bleachers were engraved and numbered and placed on the field in identical order from where they came from aiding the meticulous reassembly. The 4,00 seats will then be reinstalled.
Taranaki Regional Council director of corporate services, Mike Nield, said the repair is progressing well and is on course to reopen in time for next year's winter sports season. Despite it being forecast in September to open in March.
It will be the first-time major tenant, Taranaki Rugby, has used Yarrow Stadium since 2019 after it was forced to play at Inglewood's TET Stadium and a one-off game at Pukekura Park this year.
He said once the bleachers are put back together, work can start on repairing the field.
"Over the holiday, the sports field upgrade will begin drainage and irrigation to install the new GrassMaster hybrid turf," he said.
The field will be the same as what other venues have around the country including Waikato Stadium.
Work on the lighting project will align with the field upgrade, he said.
Cranes have already taken down light frames off the four towers and will be put back in place with new LED lights, that are more cost effective.
A large concrete pad is all what's left of the East Stand, which was too expensive to repair.
Christchurch firm CERES completed demolition of the stand and recycled what materials that could.
Nield said the new design for the stand is underway with a public announcement expected in the New Year.
"The cost is unknown at this stage and will become apparent after the tender process is complete in the New Year," he said.
Regular stakeholder meetings and discussions with local iwi are ongoing throughout the redesign process.
It's expected the stand will be moved closer to the field, denying any opportunity for cricket but will be more usable, more often, by more people because of its new spaces available.
He confirmed the rebuild remains on budget with the East Stand open in 2024, which will complete the $50million repair project. The Government injected $20million from the 'shove-ready' Covid-19 recovery fund.