Inglewood comes back to beat Clifton in first round
Sunday, May 08 2022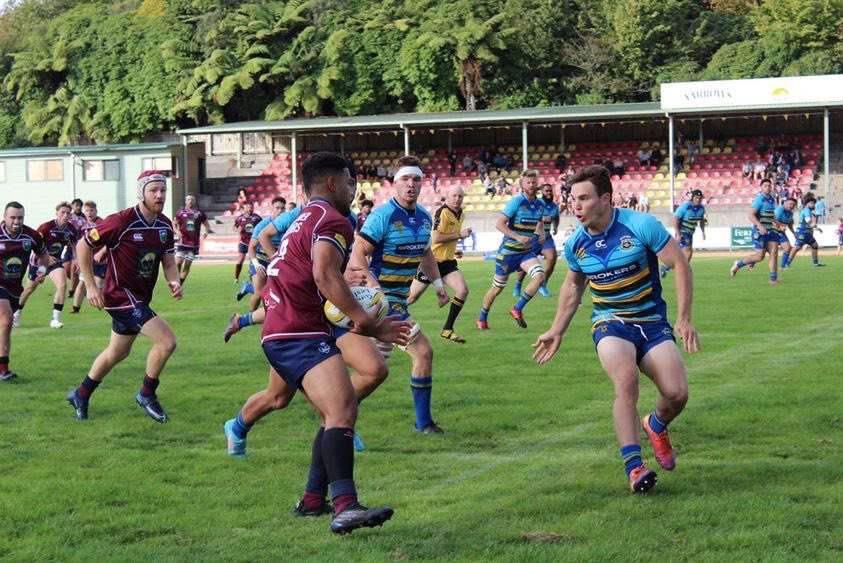 Photo: Leah Chilcott

Inglewood continued where they finished last season with a 35-26 win against Clifton in the opening round of the CMK premier club rugby competition at TET Stadium.
In an entertaining match, the defending champions ran in four tries in warm, still conditions.
But it wasn't all easy going for Inglewood, who suffered a 60-minute onslaught by a promising Clifton outfit. The visitors threw the ball around willingly and played with width.
Clifton scored two back-to-back tries to wing Fati Moeahu and hooker Kimo Faoagali to take an early 12-3 lead.
It could have been a lot more, because Clifton ventured into Inglewood's 22 three times at one stage only to be denied by excellent defence. The home team used the trial laws to their advantage by holding up Clifton and kicking the ball down field courtesy of the goal-line drop out.
Inglewood hit back before the break with a converted try to trail 12-10.
Straight after halftime, Clifton bagged two tries to lead 26-10. The most attractive try was set up by former Manawatu first-five eighth Matt James, who spotted space behind the Inglewood defence. No. 8 Cole Blyde pounced on the bobbling ball in the in goal to score.
Finally, Inglewood hit their straps. Immediately after the restart, experienced utility back Cody Hall scored.
It was the start of Inglewood's second-half comeback with two consecutive tries and two penalty kicks.
In other matches, Tukapa retain the Ibbotson Cup with a 23-15 win against cross-town rivals New Plymouth Old Boys.
The match was played in front of a large crowd at Vogeltown Park.
Blues and Taranaki wing Jacob Ratumitavuki-Kneepkens turned out for Tukapa after not being required for the Super Rugby match on Friday night.
It was an open game in the first half, but it lost shape in the second stanza when replacements came onto the field.
Coastal claimed a 27-12 win against Spotswood United at Yarrow Stadium.
Both teams were missing several players but played an expansive game.
Coastal were excellent up front and scored several tries from rolling mauls. Former Manawatu loose forward Shamus Hurley-Langton carried strongly for Coastal and will be available for the team until moving to play for Irish club Connacht in late July.
One of Spotswood United's tries is an early contender for the try of the year. It was scored by fullback Kusitino Drauna but it was first-five Louis Bartley-Saena who fired a great offload down the touchline.
In Hawera, Stratford/Eltham beat Southern 26-10.
Stratford/Eltham's ball retention was the difference in their game.